Day 1: Arrived around 9pm at the holiday home called Cockercombe near Taunton. Although we arrived quite late it didn't stop us from going for a evening swim as soon as we could! Steph really got me in the holiday mood by performing some relaxation techniques (Watsu) in the pool!
Day 2: Being woken up by my niece Evey around 6am was a bit of a shock to the system! We got up and played with her doing a little bit of frisbee until my cousin John on his first attempt of a return manage to lose it in a tree over 30 ft tall! We relaxed for the rest of the day doing a bit of swimming and generally lounging around. In what felt like an hour it was tea time where it was John & Clare's evening to cook. They created a nice mild curry with all the typical Indian starters, however they weren't able to enjoy there own cooking as they had a table booked at a local restaurant to celebrate their wedding anniversary (can't believe its already 4 years).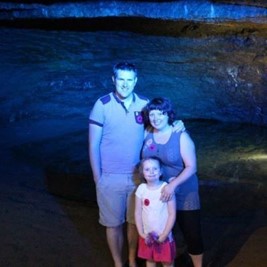 Day 3: Visited Wookey Hole (with Kathryn, Matthew and co). Caves were really exciting (although overpriced £18 per adult) and Steph and I were in charge of looking after Evey. She was initially scared after the tour guide told the story of a witch who used to inhabit the caves! Luckily Steph was able to deflect her nerves by suggesting the caves were where Moshi Monsters would live and for the rest of the tour Evey was creatively describing how moshies would play in certain areas of the caves. The tour took about 30 minutes. Michelle suggested it would be hot in the caves it was in fact 11 degrees so was very present to cool down in when it was 25 degrees outside! Upon leaving the cave we did a tour of the paper museum nearby and let the kids run riot in the jungle bungle. We left around 4.30 (with an hour and a half journey back) on the night we should of been cooking opps! Anyway we got back to the holiday home and we were lucky mum and Clare were on hand to have started the roast without us so it was a case of just dishing it out and taking the credit. Only disappointing thing was the crumble was ruined as Mum had decided raspberries went better with rhubarb in a crumble as opposed to apples! 
Day 4: Steph left for her family holiday with her parents in wales and I took the opportunity to stay at the holiday cottage to catch up on building this website and catching up on some relaxing alone time. Matthew cooked a barbecue creating burgers base on Jamie Oliver's Botham Burgers. I ate a couple of wild boar & juniper burgers made by Riverford which were really nice. We then sat down in the evening and watched a bit of the Commonwealth Games.
Day 5: Got up around 9am and trawled the Umbraco forum for answers and ideas on further developing my site. I also followed up on the question with how to get published date in Umbraco 7. At writing this I haven't yet been able to find the answer so running queries to update the createdDate as a work around (not recommended). Eventually I decided to get dressed and went off into Taunton with Mum, cousin John and Annette. It didn't seem as bad as I remembered from the previous brief visit and we visited a nice delicatessen/coffee shop called The Olive Tree and enjoyed a chicken sandwich but was rather jealous of my cousin's wife (Clare) who had a lovely looking Ploughmans. Potted around another half an hour and stopped off at Asda to pick up the pizzas for later in the week. We had fajitas for tea courtesy of my sister Kathryn and took the dog a walk before sitting back and relaxing with clotted cream scones.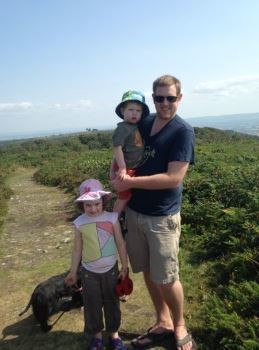 Day 6: Spent most of the day looking after my niece (Evey) we were in and out the pool all morning and playing with super soakers and listen to Disney songs (for her benefit)! For lunch I finished off the nachos from the previous evening and enjoyed another Riverford steak. I spent the afternoon walking the dog with my sister and co up the quantocks which suprisingly the kids really enjoyed and decided we come back with the larger group the next day. Aunty Annette's evening meal was spaghetti bolognese and it was wolfed down with ice-creams for dessert. Later on the evening I enjoyed watching Aston Villa play Chesterfield in a friendly.
Day 7: Walked up the quantocks with Kathryn, Reuben & Evey. Had to carry my nephew the last bit and all the way back which the walk in total was around 3.5 miles but it took us 2 hours to do! We did get to the highest point of the quantocks which was a great achievement for the kids as they don't usually walk up hills in the part in the country they live. Lunch envolved eating up the remain bits and piece and spent the afternoon in the pool for the last time. 
Day 8: We left the holiday home by 10am and I traveled up to Bradford on the way I visited my dad and discussed his next walking visit and extension plans for his house.